Given that The Muse is an adaptation of Pride and Prejudice, you probably assumed that P&P is my favorite book. You're correct. I also love Persuasion by Jane Austen. But actually, my taste in books extends beyond English novels, so I thought I'd highlight some of my favorite books in this post.
The Joy Luck Club
 by Amy Tan has remained one of my favorite books since I first read it in middle school. A story of four Chinese mothers and their American daughters, the book delves into the misunderstandings not only between American and Chinese cultures, but between mothers and daughters. I tear up at the end of almost every chapter, and become a big snotty mess at the end of the book. Gah, I'm even tearing up as I write this.
I discovered Fire by Kristen Cashore last year around this time. The second book in her Graceling trilogy, this book is technically young adult fantasy. It is about a human monster named Fire, who is both hated and revered for her ethereal beauty. In the story, must make her enemy Prince Brigan learn to trust her, while also coming to terms with the death of her father, who she both loved and feared. Cashore writes exquisite prose, and strong yet human characters. I'd recommend the other books in the trilogy, Graceling and Bitterblue, too, but Fire is my favorite.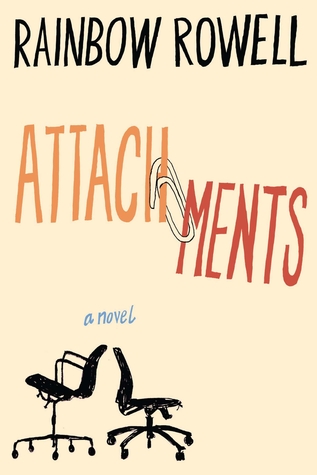 Rainbow Rowell is best known for the popular New Adult book Eleanor & Park, but I actually like her book Attachments the best. It's about a dork named Lincoln who lives with his mother and works the graveyard shift as an IT guy in a newspaper. In the wee hours of the morning, he begins to snoop through the email exchanges between two of the reporters, best friends, Beth and Jennifer. The story is told from Lincoln's point of view and through the hilarious emails between Beth and Jennifer. The ending is a little sappy, but it satisfied. A close second is Rowell's other book, Fangirl, which is a story about a popular fanfic writer's struggle to fit in during her first year of college.
Heart's Blood
by Julliet Marillier is historical fantasy, and also a reimagining of the Beauty and the Beast fairytale. The main character is a scribe running from an abusive brother-in-law. She finds safe haven with a strange chieftain in a place called Whistling Tor. Like Fire, the prose is lush and the romantic plot-line is carefully developed.
Last, I'll talk about one of my favorite middle grade novels, the classic, Julie of the Wolves by Jean Craighead George. The book begins as the main character, 13-year-old Miyax (Julie), is running away from her husband into the Alaskan tundra. Befriended by a pack of wolves, these creatures help Miyax survive the harsh winter. The book also touches upon the theme of cultural assimilation as Miyax must decide if she wants to embrace her Eskimo heritage or surrender to becoming Julie, her white-person name.
All of these books are wonderful. Have you read them? If so, let me know what you think in the comments.